Eleven Years Later, We Call for you to Break the Silence
By Qiongyan Weng
September 8, 2013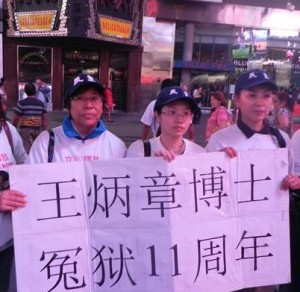 In the quest to globalize human rights, it is sometimes easy to forget that the ultimate subject of concern is the plight of real, individual human beings. I would like to spotlight a particular case of a blatant and egregious human rights violation perpetrated by one of the most powerful political organs in the world— the Chinese Communist Party.
Dr. Wang Bingzhang has been assigned a fate that is abysmal beyond most people's imagination. Recognized for his intellectual talent early in his career, Dr. Wang received a rare scholarship from the Chinese government to pursue a Ph.D. in coronary-artery studies at McGill University in the late 1970s. While abroad, Dr. Wang awakened to the possibilities of political freedom. He made a risky life choice to renounce his promising professional track as a doctor and become a democracy activist. He relentlessly dedicated the next two decades of his life to nurturing the first Chinese pro-democracy parties outside of mainland China and launched an influential publication, China Springs, in New York. Despite setbacks in his attempts to enter China during the Tiananmen Square protests, Dr. Wang worked tirelessly from abroad to continue strengthening the democracy movement.
During a trip to Vietnam in 2002, where he planned to meet with labor activists, Dr. Wang was secretly kidnapped by unidentified security officials and abandoned in a Buddhist temple in China, where he was then arrested by Chinese authorities. Dr. Wang was tried in secret, being denied representation by a lawyer and presence by family members, and sentenced to lifelong solitary confinement in Guangdong Province. More than eleven years later, Dr. Wang finds himself serving this inordinate sentence, despite having suffered three strokes while in the prison cell. The psychological damage he has endured is incalculable. Still, Chinese officials seem unrelenting in their intention to keep Dr. Wang in this deplorable condition.
Dr. Wang's situation has been brought about by a sequence of flagrant human rights abuses, which are in direct violation of international agreements to which China is signatory, including the International Covenant on Civil and Political Rights, the International Convention against Torture, and the Universal Declaration of Human Rights. The governments of Canada and the US, as well as representatives of the United Nations responded vocally to Dr. Wang's imprisonment back in 2003. However, having met with deaf ears, these calls have dwindled.
We cannot allow Dr. Wang's case to be forgotten. The world is, quite understandably, preoccupied with large-scale and visible incidents of violence and instability— most recently and notably in the Middle East and Africa. But foreign governments and international officials should not renounce their commitment and responsibilities to individual people suffering day after day at the whim of repressive regimes. Dr. Wang's story is just one, albeit very poignant, case of cruel and degrading treatment perpetrated by the Chinese government. Individual cases should be brought out to the open and addressed by high-ranking officeholders in diplomatic discussions, and popular awareness is key to precipitating such action.
Eleven years have passed since Dr. Wang's forced exodus from the outside world, but his family has not lost hope. Please join the movement to demand the release of Dr. Wang and other prisoners like him.