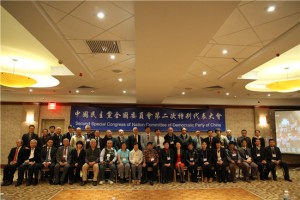 Date: December 15, 2015
On the morning of December 13th, 2014, Second Special Congress of Democratic Party of China National Committee was held in Long Island, New York.  The Executive Chairman of congress committee Mr. Gao, GuangJun chaired the meeting.
At the beginning, all attendees observed a moment of silence in tribute to all the victims who died under the Chinese Communist Party's tyranny. After Mr. Yi, Gai announced the name list of congress committee, secretary committee, administrative group, and ballot scrutineer group, Mr. Ye, Ning Xua announced the congress agenda and discipline.
Before the formal report of the meeting, Mr. Gao, Guangjun, invited guest speakers to address to the assembly.
Mr. Chen, Dazheng, from Hong Kong, hoped that everyone make more contributions to our country. The Chairman of Federation for a Democratic China, Ms. Sheng Xue, from Canada, said all the attendees for today's meeting are heroes of carrying out democratic revolutionary struggle against the world's most powerful and evil regime. Mr. Hong, Zhesheng, from Taiwan, pointed out that democratic movement would take time. Over the past 25 years since 1989 democratic movement, a new generation of democrats has been growing. In the future of, the Democratic Party of China needs to take more actions and be willing to contribute their efforts. The chairman of the Social Democratic Party of China, Zeng, Dajun said that pro-democracy movement experienced its high tides and low tides, however, all pro-democracy activists who adhere to the team are much stronger than the low tide period. He hoped that we can be more united. The Secretary-General of the Overseas Chinese Democracy Coalition, Ms. Huang, Ciping, expressed the importance of building political opposition parties against the one party dictatorship of the Communist regime. She said that the international and domestic situation are harbingering the upcoming revolution in China, we must be mentally prepared to realize our democratic ideals through actions. Mr. Wu'erkaixi, who just arrived in New York from Taiwan, the democratic endeavor stemmed from 1989 democracy movement needs be expanded and strengthened because our current achievements are not large enough and the our opposition "flag" is not influential enough. We need to reflect on our past and take more actions. Then, Jin, Yan read a congratulation message from Mr. Wang, Dan. The message said when facing the downturn democratic movement, we should adhere to the spirit of perseverance, be tough enough, continue to struggle, and hold on our political ideas, which is the basis for the transformation of China. Mr. Tang, Yuanjun hoped that the Democratic Party of China, the most influential political opposition party in New York, can form the greatest momentum of democratic movement by uniting all the opposition forces because we have a long and difficult way to go to realize democracy in China. The Secretary-General of China Democracy Alliance, Mr. Han Wu spoke of his witness of the activities of the Democratic Party of China in the past few years since his coming to New York, by which he was deeply moved. He was confident that in the future we will hold a Democratic Party meeting in China together. DPC's Supervision Committee member, Mr. Zhu, Xueyuan viewed that few people can stay on and struggle for our nation's political rights. If we stay, it is our honor. It is true that we have our internal problems, but the problems are more serious in CCP. Why we cannot have normal conversation with them?
After the guest speeches, the next agenda for the assembly are the official reports
A Professor from City University of New York, Mr. Xia, Ming addressed the political report titled "Protest against CCP's perverse action, lead China's democratic revolution." He introduced the report generation process, its purpose and main content. He said that after a lapse of four years, we can once again convene a special congress, which in itself is very valuable. The political report gave us a very clear picture of CCP's historical and current situation, exposing CCP's failure in its governance and then proposed comprehensive alternatives of the Democratic Party, including five parts of the political system, the economic field, law and justice, ethnic relations and foreign policy. After clarify the necessity and urgency of China's implement of a competitive multiparty political structure, the report described the Democratic Party of China's current organizational strategy and future action. He said that under the conditions of the current existence of various forms of resistance to the CCP, the CCP's infiltration, destruction and repression of the Democrats, and the nature of the future of democratization, we can predict that the structure of the democratic revolution and the Democrats at this stage is necessarily a pluralistic, multi- layer, and multi-center. When the time is right, all opposition forces will unite together. We need to have "one thousand resistance plateau" which will polymerize into "a large bamboo root network system."
The second reported is the modification report on "the Constitution of the Democratic Party of China" in charge by the Congress Secretary-General Mr. Li, Jinjin, who is a lawyer. He first announced that there were 106 attendees with qualified voting rights, all the votes proceeding later will be based on this number. He proposed a more practical and operational-sound revision toward the DPC's organizational structure based on DPC's past four years' experience. First, the Chairman seat was set originally as a nominal position responsible for external relations; however, in the past four years we found that it has severe disadvantage. So we will tighten up the cooperation relation between the Chairman and the Executive Committee. Second, we will reduce the list of the Executive Committee to a total of eight people including Chairman, Vice-Chairman, and Executive Committee. We will let go some honorary-nature and inactive members in the party. Third, we will give more responsibility to our Supervision Committee and implement the leadership impeachment process.
Dr. Wang, Juntao, the former Co-Chairman of the Democratic Party of China National Committee, on behalf of the National Committee began the "Glorious Thorny Road - 2010 to 2014 annual Work Report of the Democratic Party of China National Committee" He recalled the past five years of DPC's progress and achievements, discussed the existing problems and lessons learned, and made recommendations for the future party development. He said DPCNC had been protesting before Chinese Consulate General in New York against CCP's atrocities for 60 consecutive months, had been demonstrating at the center of New York Times Square for 200 consecutive weeks, and had been holding "64" commemorating events for five consecutive years, which had made New York the most impressive display center of commemorating Tiananmen incident in the world. On average, every other week, we joined and supported other pro-democracy activities in New York and D.C., and we organized important events to criticize Chinese government or respond to certain major international news, for example, Chinese Jasmine Revolution, Prison in Action and Hunger Strike to support Dr. Wang, Bingzhang, Support Hong Kong's umbrella revolution, etc.. To summarize, the National Committee has become the endeavor growth point for DPC and has become a strong team with fighting capacity. The DPCNC utilized limited resources to support democrats in China and formed a new democracy culture. Dr. Wang, Juntao also pointed out that some problems exist in the DPCNC,including: still have a long way to go to compete with CCP; not responding timely enough to some major issues happened in China; activity quality is still far away from that in those freedom and democracy countries; public relations and diplomacy development is not expanded substantially; not fully utilizing internet, multimedia and information technology to promote the cause of democracy; not enough support for domestic Democrats; the problem of internal struggle. Summarizing past achievements and problems, Wang Juntao proposed actions for future development: in organizational level, reconstruct a leadership team committed to democratic endeavor and DPC party, establish an effective communication, discussion, and decision-making mechanism and rules to attract more younger members to enter the leadership group, and organize specialized task force to increase activity quality; regarding how to expand our party, encourage more member to speak up in party gathering and increase the quality of their speeches, shift our organizational development focus to mainland China, aim for having democratic organization in each county, using a variety of network information technology means to advance the cause of DPC, and strengthen cooperation with international organizations, human rights groups, the media and all other progressive forces for China.
Finally, the Executive Committee member, Ms. Chen, Liqun, made the financial reports, past five years' total income was $ 430,000, with a total expenditure of $360,000, of which direct funding of $50,000 was allocated to domestic democrats and the total rent expense was $200,000. She declared that out of $60,000 in savings, DPC will dedicate $30,000 in publishing books to record party's history. Especially, she also explained that in DPCNC all staff members are volunteers who had never been given wages and reimbursement for personal travel, commute and catering expenses. There were no excess money ending in any private, which could be said that whatever was taken from the DPC member was given back to the democracy movement.
Weng Qiongyan,
Secretary of Second Special Congress of DPC National Committee